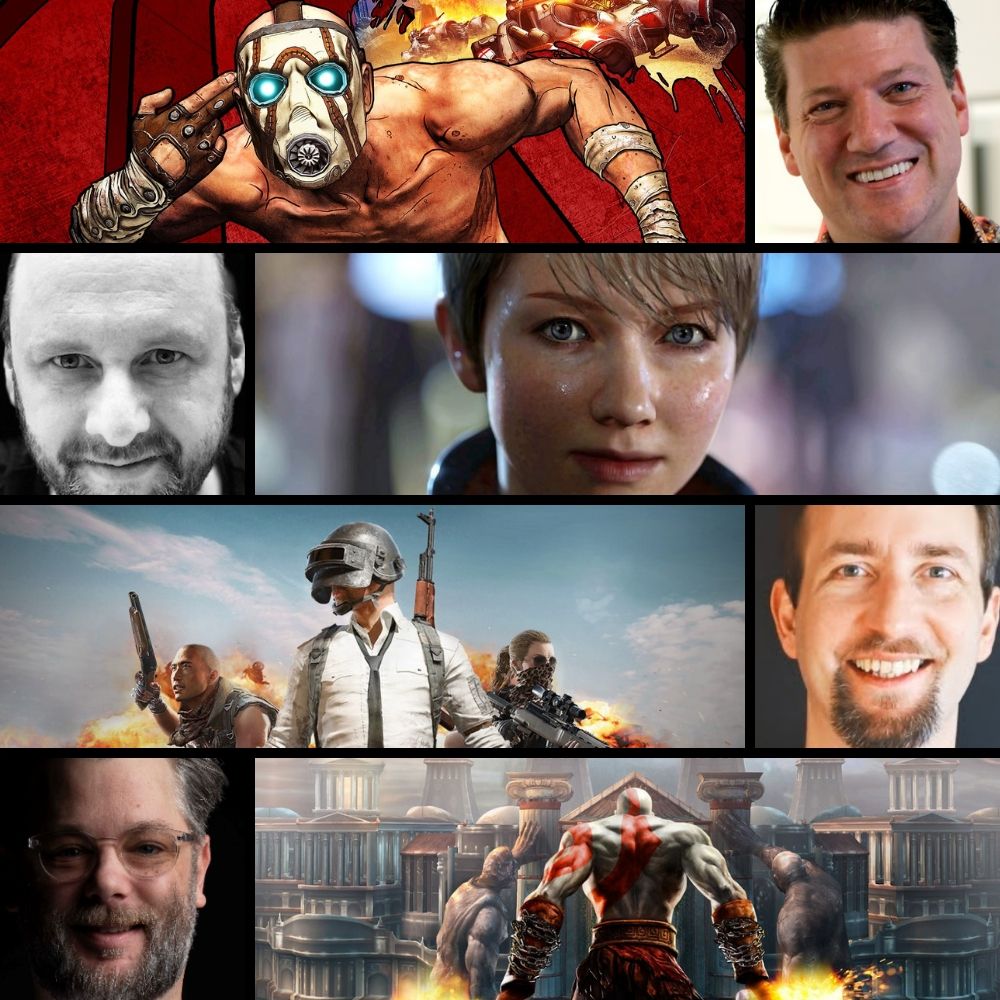 GAMELAB to welcome most important creators of the year
GAMELAB to welcome most important creators of the year, Cory Barlog (God of War) and Randy Pitchford (Borderlands)
David Cage (Detroit: Become Human) and Brendan Greene (PlayerUnknown's Battlegrounds) round out stellar panel
GAMELAB reasserts its position as leading conference in the videogame industry
Madrid, May 23, 2019. – Gamelab continues to keep a pulse on the videogame industry, and add big names to its guest list. Because it is such a well-known conference in the global industry, and to commemorate fifteen years, Gamelab is bringing together, for 3 days in Barcelona, today's industry leaders and the most renowned, highly regarded names in the sector.
God of War creator and writer, Cory Barlog, is one of this year's big names, demonstrating Gamelab's clout as an international forum. Barlog has been working on the aforementioned franchise since its inception, in 2005; last year's reboot of this saga, in which he was a key player, was a resounding success, selling 10 million copies since its release. God of War has received critical acclaim for its impeccable execution and writing, made clear by the awards it has received, including three BAFTAs (best game, best script and best narrative), two Game Awards (best game of the year and best art direction) and the D.I.C.E. Game of the Year from the Academy of Interactive Arts & Sciences.
Another big name, the creator of Borderlands, Randy Pitchford, will share his more than twenty year's experience as a developer and cofounder of Gearbox Software. Borderlands is one of the most talked about franchises in recent weeks, since it announced the third installment; the two previous installments alone have sold over 43 million copies worldwide. However, this is not Pitchford's only achievement. His résumé includes games such as Halo, Duke Nukem – at the start of the long-running franchise – and Shadow Warrior.
The founder of Quantic Dream, David Cage, will also be a Gamelab guest. Cage is responsible for games that have helped explore new interactive horizons in videogames, such as Heavy Rain, Beyond: Two Souls and his most recent success: Detroit: Become Human, which includes two BAFTA nominations and three Game Awards nominations. Cage's works are an excellent example of the confluence of videogame mechanics and communicative tools of other arts, as they develop complex stories with strong ties to science fiction and transhumanism.
It's impossible to talk about the most popular games in recent years without mentioning PlayerUnknown's Battlegrounds (PUBG), the main driver behind the popularity of the battle royale. PUBG has sold over 50 million copies and reached over 3 million simultaneous PC players alone. PUBG's creator, Brendan Green, will also be at Gamelab. With a background in fine arts and a wide variety of work experience before joining Korean developer Bluehole, Greene is still involved with the game that catapulted him to fame – currently as a director of development in a new division called PUBG Special Projects.
Another of last year's big sellers was Marvel's Spider-Man, for PlayStation® 4. Not only did it receive immense critical acclaim, but fans of the character also praised how true it was to the universe and its fundamental themes. The game's director, Ryan Smith, will be at Gamelab to talk about it and other games from the studio he works at, Insomniac Games, from the long-running franchise Ratchet and Clank to the crazy cult game Sunset Overdrive.
In independent games, Gamelab has invited the creators of GRIS, a patriotic game that was a resounding success with fans and critics last year (in just three months following its release, GRIS sold 300,000 copies around the world). Adrian Cuevas, Roger Mendoza and Conrad Roset will talk about their work at Nomada Studio and how their respective backgrounds and skills (Cuevas and Mendoza already worked at videogame companies like Ubisoft and Square Enix, and Roset was an established illustrator) helped create such a unique, intimate experience. Other presentations from the indie sector will include big international names such as the Finnish developer, Arvi "Humpuli" Teikari, creator of the disruptive puzzle game Baba is You.
A tech guru summit
Gamelab has also become a must-attend event for industry talent in our company. Each year, the event brings together top consultants and gurus, whose presentations as a guide for anyone wishing to enter the videogame sector and learn more about it, whether by entrepreneurship or in search of technological innovations. This year's highlights include Kate Edwards, consultant and former executive director of the International Game Developers Association (IGDA). With a career that includes 13 years at Microsoft, she is considered one of the most powerful women in the world of videogames; Katie Scott, senior designer at the FIFA sports franchise and leading voice for the inclusion of female characters in FIFA 19; and Alexis Bonte, cofounder and CEO of eRepublik Labs, a free-to-play pioneer.
New innovations in technology and data engineering will be presented by guests such as Africa Perianez, founder of studio Yokozuna Data, who will speak about her automated learning platform for predicting player behavior. With an incredibly precise method of analyzing motivations and strategic ways of thinking, this platform not only allows for better online game pairing or in-game purchase prediction, it also helps prevent potentially addictive behaviors, while respecting its users' anonymity. For his part, Jeferson Valadares, CEO and cofounder of Doppio Games, will talk about the voice-controlled games sector, which includes Amazon Alexa and Google Assistant.
There will also be innovations in communication: Hollywood-based Russian film director and producer, Timur Bekmambetov (Night Watch, Ben Hur) will present Screenlife, a technology developed by studio Bazelevs, which offers a new digital language for creating complete narrative-based projects from a screen. Using new tools and semiotic elements, Bekmambetov proposes making the leap to producing cinema exclusively for computer screens, in line with the ever-increasing presence of interactive productions on audiovisual streaming platforms.
GAMELAB 2019 will be held on June 26-28 in Barcelona. It is supported by the Government of Catalonia, the Ministry of Culture and Sport, the City of Hospitalet de Llobregat, the City of Barcelona and the Barcelona Regional Council. In collaboration with the Academy of Interactive Arts & Sciences, DeviCAT, PROA, DEV, ENTI, the University of Barcelona, eGoGames and Native Prime.
Official media: Gamesindustry.biz, GAMEREACTOR, MCV (The business of Video Games)
Zenit Comunicacion
GAMELAB 2019 Press Office
Sylvia Suarez
91 547 23 90
zenit@zenitcom.com, prensa@gamelab.es